Toluna UK Review
Minimum Age to Join: 14
Membership: Worldwide
Signup Bonus: One Sweepstakes Entry
Points System: 3,000 Points = $1
Payments: Cash via Check (no PayPal), Tango Card, Facebook Credits, Music Download with Billboard, and My Choice Works Voucher Cash out threshold: 60,000 Points ($20).
Referral Program: $3.5 after your referral completes his/her first survey (via Think Action Affiliate Program)
Toluna UK: A Market Research Company and Online Survey Panel
Toluna is an online community dedicated to making your voice heard by expressing yourself through the use of its marketing research and online surveys, polls, opinions and reviews.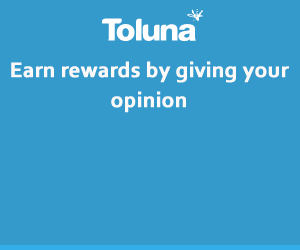 Toluna online panel is owned and operated by Toluna Group, a leading marketing research company with United States headquarters in Dallas, Texas, and global headquarters in Paris, France. In 2009-2010, it acquired Your2Cents and Greenfield survey research panels. Toluna works with top market research companies, leading manufacturers, technology companies, retailers, restaurant chains and service providers to learn more about their customers so they can make informed decisions. This is your opportunity to shape the future by sharing your views and opinions that significantly influence the development and marketing of products and services throughout the world. Toluna is a legitimate research panel that is free to join and has numerous market research surveys available everyday with good incentives. You can make easy money of at least $40 a month with its paid surveys if you follow our recommendations below, and even more with its sponsored polls as well as your polls, opinions and reviews.
Ways to Make Money Fast with Toluna UK
Initially, you will provide some basic information during your account creation. After you sign-up, you will receive an email to activate your account and verify your email address. Keep in mind that the verification email may be considered by your email provider filter as a SPAM and it may be getting to your Bulk or Junk e-mail folders instead of your Inbox. You will receive one sweepstakes entry as a signup bonus for joining Toluna UK.
Fill in your personal interest surveys shown in the capture below. These are 11 short online surveys that Toluna UK uses to match your demographics and current interests with the available online surveys requirements. Therefore, the more information you provide, the greater your chances of receiving better targeted paid surveys invitations that you may qualify for, and piling up extra points in your account. You will be awarded 100 points for each personal interest survey you complete. They are divided into three categories: surveys completed, surveys to be updated, and surveys not completed yet. No need to take all of the 11 online surveys in one sitting.
Update your portraits upon major purchases such as a new vehicle, large appliances (e.g. refrigerator, washer, dryer, etc), consumer electronics (e.g. HDTV, Internet TV, 3D TV, Smartphone, iPad, etc), or video games consoles (e.g. Microsoft Xbox 360, Nintendo Wii, Nintendo 3DS, Sony Play Station 3, etc), or upon being diagnosed with a new health condition (e.g. high cholesterol, diabetes, depression, etc). This will increase your chances to qualify for more paid surveys.
Your personal information will remain confidential and used purely for market research purposes as Toluna is legitimate and adheres to the principles set forth in the Safe Harbor Framework as established by the United States Department of Commerce regarding the collection, use and retention of personal data provided from the European Union.
To ensure that Toluna UK online surveys invitations reach your email Inbox, add
SurveySupport@Toluna.com to your list of trusted senders, address book or contact list.
For More UK paid surveys check the below links: