MySurvey UK Overview
Minimum Age to Join: 18 (14–17 can join with parent or legal guardian permission to participate in their paid surveys)
Membership: United States, Canada, UK, and Asia Pacific (Separate Panels) Signup Bonus: 10 Points Points System: 100 Points = $1
Payments: Cash via PayPal or Check, Gift Cards, or Prizes
Cash out threshold: 1,100 Points (PayPal) or 1,150 Points (Check)
Mysurvey UK Sign up link: Click Here to Join MySurvey UK
MySurvey UK is the #10 online survey panel on our list. MySurvey is an online consumer research panel that is part of Lightspeed Research, both owned by WPP, one of the world's leading communications services groups. MySurvey has been collecting the opinions of United States consumers since 1946 as National Family Opinion and then NFO. The current MySurvey website was created in 2001 to enable a group of consumers like you from all over the United States to express their opinions online which have a significant power to shape the products and services of the future. MySurvey has sister research panels that collect consumer opinions in Canada, Europe, and Asia Pacific.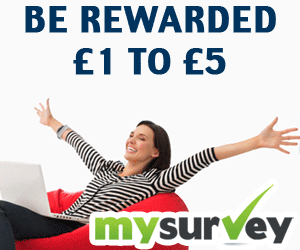 You can make at least $10 and up to $20 a month with their paid surveys if you follow our recommendations below, in addition to evaluating products and special surveys every 2–3 months. The truth about MySurvey: it is always one of the top 10 in most web sites reviewing online survey panels because of the quality of their surveys, good incentives, minimal technical errors, good customer support, and interesting products to evaluate.
How to Earn Money with My Survey UK?
Join the survey panel by clicking on MySurvey logo shown above. You will provide your basic information during the account creation. After you register, the panel will send an account activation email to confirm your registration and verify your email address. Keep in mind that the verification email may be considered by your email provider filter as a Spam and it may be getting to your Bulk or Junk e-mail folders instead of your Inbox. There is signup bonus of 10 Points for joining MySurvey UK.
If you live in Canada, or in certain countries in Europe or Asia Pacific; check if you are eligible to join MySurvey sister panels.
To ensure that MySurvey invitations reach your email inbox, add carol@mysurvey.com to your list of trusted senders, address book, or contact list.
MySurvey will initially send you short profile surveys to fill out. You may receive 5–10 Points for each profile survey which include basic information about you, your household, profession, finance, health and lifestyle, vehicle you drive, computer & internet usage, etc. Each profile survey would take up to 5 minutes and will be used by MySurvey to assess demographics and interests to be matched to available survey opportunities. You will then have a better chance to qualify, complete more surveys, and earn extra Points in your account.
Your personal information will remain confidential and used purely for research purposes as MySurvey is legitimate and participate in the EU Safe Harbor Privacy Framework as set forth by the United States Department of Commerce.
Understand the value of MySurvey Points system in order to take surveys based on incentives that are reasonable to you, so that you spend an appropriate amount of time given the Points offered. In fact, 100 Points are equivalent to $1.
Check your email for survey invitations from MySurvey as you may receive 1–5 weekly invitations which include the survey topic, survey length, and the incentive offered.
Most surveys pay 5–15 Points just for completing the introductory questions which usually take less than 5–10 minutes to complete. According to your answers, you may qualify and be directed to a longer survey that requires 15–30 minutes to complete with additional incentive of 35–400 Points. This allows you to make an informed decision on the surveys that you will want to attempt.
Upon completing a survey, the Points will be instantly credited to your account.
A good feature in MySurvey in case you would like to take a survey but cannot complete it in one sitting due to its length, you can exit the survey. You are allowed to log in later to resume the survey where you left off as long as it is still open. Surveys are usually available for an average of 5 days from the invitation date. However, some surveys close quickly in 1–2 days while others may stay open for 3 weeks, so respond to survey invitations at your earliest convenience.
You will not qualify for every survey but most likely 1 every 2–3 surveys, which is normal for survey takers, so do not be frustrated!
Once every few months, you may qualify for surveys that require evaluating a product that is not yet available in the market. You will love these special surveys that give you the opportunity to try new products, express you opinion, and make up to 1,000 Points ($10) for a short follow-up surveys. Products to evaluate can be enhanced water, energy drinks, socks, razors, cereals, shampoo, perfume, etc.
Once every few months, you may qualify for special short-term survey projects that would require commitment for at least 1 week and sometimes 1 month. The incentives are good ranging 400–1,000 Points ($4–$10). Projects may include a diary about what you drink for 1 week, a diary about your purchases for 1 month, etc.
MySurvey also offers $10,000 Sweepstakes offered several times a year; 50,000 Reward Points ($500) offered monthly; 10,000 Reward Points ($100) offered daily; etc. Learn more about MySurvey UK Rewards.
When can you expect your Payment from Mysurvey UK?
The minimum amount you need to earn before you can cash out is 1,100 Points ($10) for payments via PayPal or 1,150 Points ($10) for payments via a Check.
On average, it would take 1 month to reach more the 1,100 Points.
Cash out requests are processed and deposited into your PayPal account within 5–7 business days. On the other hand, you have to wait 2–3 weeks to receive a Check.

Click the below links to join best paying survey websites in UK: